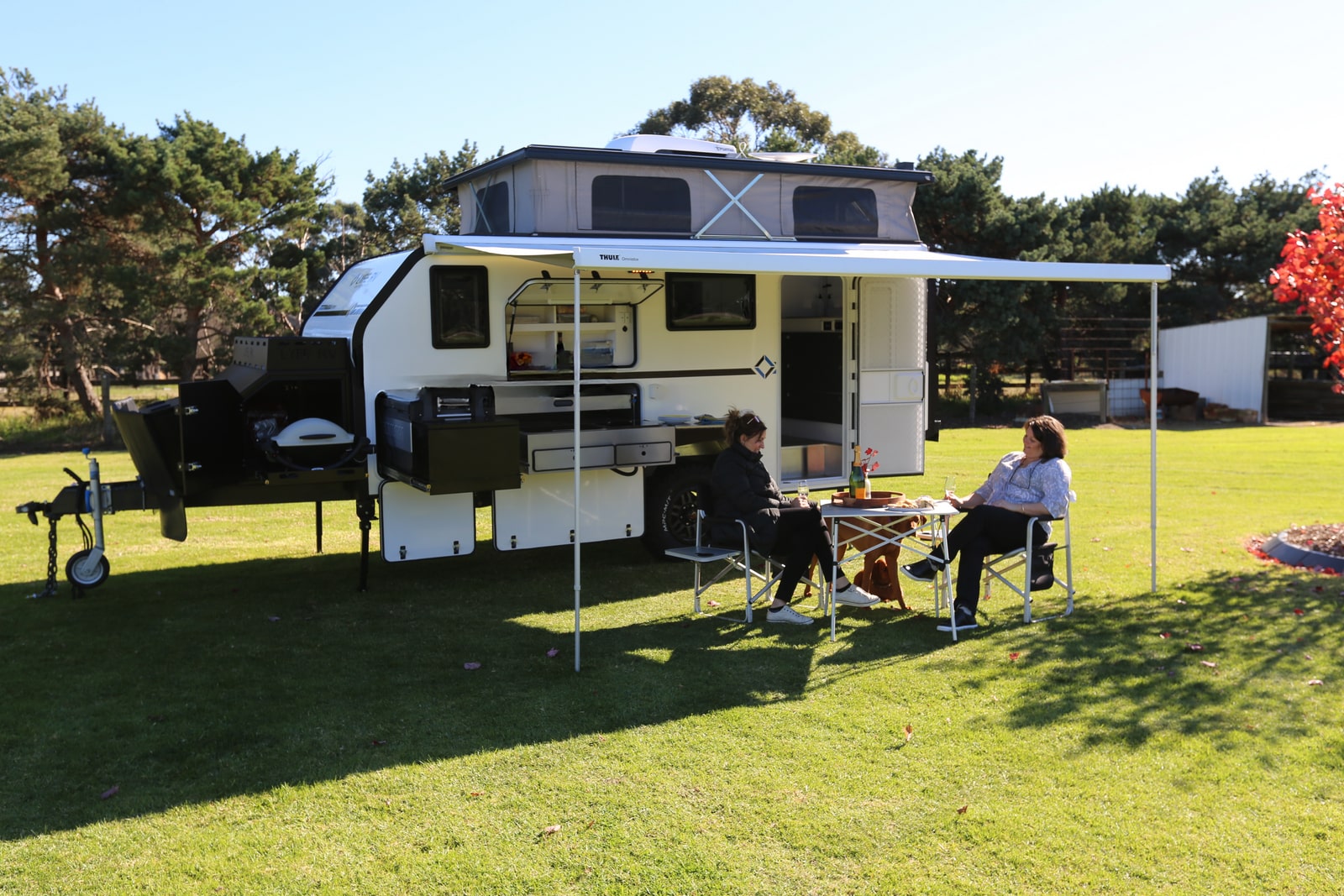 As you step into our Lyfe, you will see the lightweight Lyfe RV15 Hybrid offers the best use of space for comfort and convenience, effortless set up with the automated pop top, ample storage and oversize internal combination bathroom. And for your creature comforts in Lyfe, diesel heating and hot water, air conditioning, and smart tv, just to name a few.
Lyfe RV15f Hybrid - Bunk Model
As you step into family Lyfe, you probably would have asked yourself "how will they fit our family in?" Our passion is to create private and cosy spaces for both adults and kids. The answer: face to face family seating, rear end bunks that convert to a couch and sheer dividing curtain.
Our Lyfe RV17 Hybrid is a perfect couples hybrid offering a combination of solid and sturdy build, comfortable and spacious with all road versatility. If life on the road is calling you, enjoy it in style for weeks at a time, not just a couple of days… with your own sophisticated off road, off grid, dual axle narrow bodied hybrid.
LUXURY ON AND OFF THE ROAD
Lyfe RV17f Hybrid - Bunk Model
This dual axle, narrow bodied off road and off grid hybrid is pure sophistication with all the luxuries you have at home. Including a comfy queen size bed, mounted TV, fans, USB ports, and sidelights. Decent Bunk sizes of 750mm(W) x 1850mm(L) each with pockets and pigeonholes for the kids' books and toys, and a window for the kids to take in the views.
LUXURY ON AND OFF THE ROAD
The new Lyfe RV17 Off-Road is a combination of luxury living with full off-grid capabilities. It makes life on the road for short or long getaways possible with the easy set. Whether you are looking to escape the hustle and bustle of city life or simply want to experience the great outdoors in comfort, the Lyfe RV17 Off-Road is the ideal choice for your next adventure.
LUXURY ON AND OFF THE ROAD
Our Lyfe RV19 Off-Road, fully composite compact caravan, exudes luxury, comfort and class. If life on the road is calling, you can do it in style for extended periods with this impressive off road, off grid narrow bodied caravan. All appointments are precisely what you need, delivered with thought and detail, as you would expect, in a product of this calibre.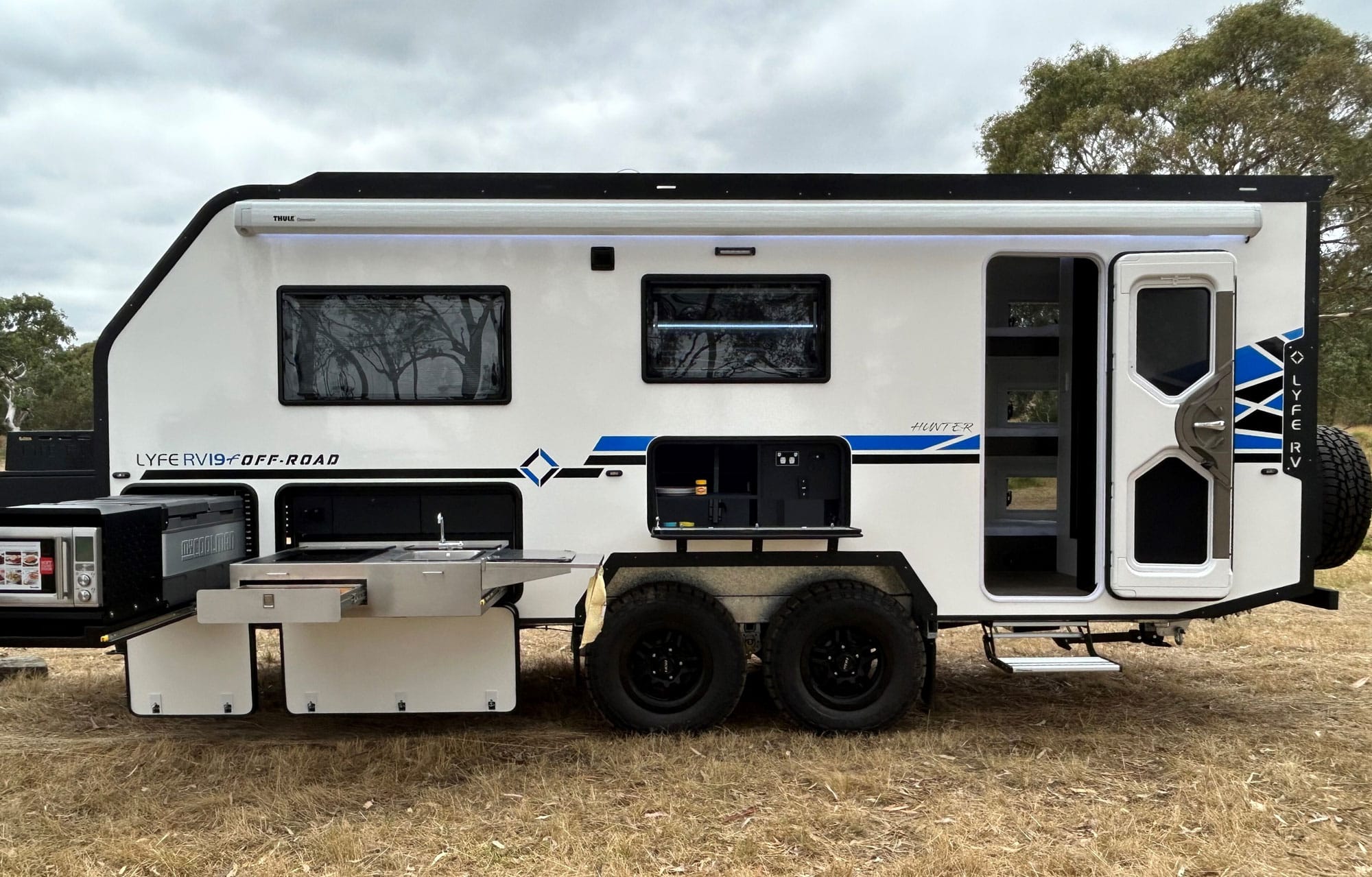 LUXURY ON AND OFF THE ROAD
Lyfe RV19f Off-Road - Triple Bunk
This dual axle, narrow bodied, off road and off grid compact caravan is offering all the mod cons and guaranteeing, you will not miss 'home'! How many kids? No problem, we have you covered with generous size triple bunk configuration with beds measuring 750mm (W) x 1850mm (L). Let's tick off your list: comfort, quality, convenience of space and storage, and a few hidden little extras which will keep both adults and kids satisfied.
LUXURY ON AND OFF THE ROAD
Lyfe RV19f Off-Road - Double Bunk
Our Lyfe RV19f Off-Road –Double Bunk Model boasts four large, double-glazed windows and two small windows at the bunks. Fitted with a club lounge for the whole family to have meals or play board games. Other internals include plenty of storage, a spacious internal combination bathroom, stereo system, TV, diesel hot water and ducted heating, and air conditioning. The kitchen is full of pleasant surprises such as 152litre compressor fridge freezer, rangehood with LED lighting, induction cooktop, microwave, and indoor /outdoor pantry access.